What is a Deluge Fire Sprinkler System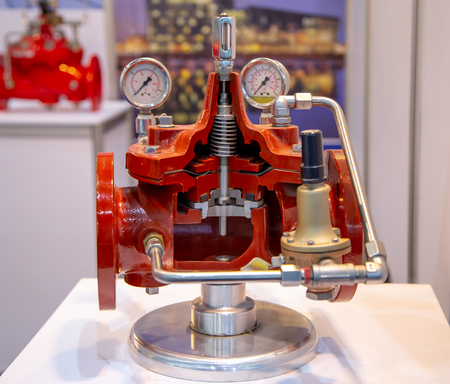 A deluge fire sprinkler system uses unpressurized dry piping and open sprinkler heads. It is typically connected to a water supply. Upon detection of flames, heat or smoke, a valve is triggered, which allows all the open sprinkler heads to let out a "deluge" of water at once. This kind of system is especially popular for businesses with potentially hazardous materials and equipment in its rooms or large areas. Besides water, a deluge fire sprinkler system may be designed to relea6se other materials, such as foam, dry chemicals or inert gases, depending on what hazards could be below and what is being protected.
Chemical processing plants, for example, benefit from deluge fire sprinkler systems. They're also found in airport hangars, power plants, and data storage units. Another word for deluge is flood; these systems totally flood a fire quickly so it won't spread.
Because deluge systems are dry systems, they're not at risk for having frozen pipes. Traditional sprinklers, when exposed to cold temperatures, might have their water freeze inside. Deluge systems don't have that problem.
The Differences Between Deluge and Pre-Action Fire Systems
Deluge systems are typically dry. When not called upon to release water (or other materials) if there's a fire or heat or smoke, their pipes sit empty and at atmospheric pressure. All their sprinkler heads are open. When the system becomes activated, the system is immediately flooded and all the water (or other materials) are released from all the sprinkler heads simultaneously.
A pre-action fire system, on the other hand, is always filled with compressed air and its sprinkler heads are closed until activated, and then the system goes from dry to wet. Upon activation, because the system has detected heat or fire, sprinkler heads open and the system is flooded with water and/or foam, dry chemicals or inert gases– these are let out onto the problem area to quell the problem. With pre-action fire systems, a specific sprinkler head that detects heat or fire is opened. If needed, other sprinkler heads will open and be put into use. The system coverage can expand as needed. This type of system is commonly used in places where owners wouldn't want to ruin all of something below if not necessary– for example, museums, art galleries or libraries.
In places where water (or other materials) must be applied to an entire area for quick protection, deluge systems work best. In places where certain areas ideally should be protected from water damage, pre-action systems are ideal.
The Advantages of Deluge Fire Sprinkler Systems
What are some advantages of deluge and pre-action fire systems? They both can slow or stop a fire once activated. Deluge systems can cover big areas with lots of water (or other materials) very quickly. Oftentimes, deluge systems are used in conjunction with foam concentrate which further controls certain types of fire.
If you've got a building that's at risk for a rapidly spreading fire, the deluge fire sprinkler system is ideal. It's automatic but can also be set off manually if needed. This is a good benefit "just in case."
Pre-action systems are good for places where you wouldn't want the whole building flooded at once– but, rather, the area or areas that "truly need it" at the appropriate time.
How R.G. Fire Protection Can Help
R.G. Fire Protection offers a wide range of fire suppression services. We handle the installation, repair, maintenance and inspection of pre-action and deluge sprinkler systems. Our company helps protect your business, your assets and your people from the danger of fire.
With over 75 years of experience, R.G. Fire Protection has served the Canton and Columbus areas for decades with professional and expert services. Indeed, from big cities to smaller towns in Ohio, R.G. Fire Protection has played an important role in the protection of generations of businesses and their people. Please call us at 330-456-8848 so we can discuss your needs… and meet them!